7 Ways to Improve Call Centre Efficiency
You may have a flourishing call centre but what can you do to improve efficiency? We've outlined seven of the most important steps that our customers are taking to improve the service that they are delivering.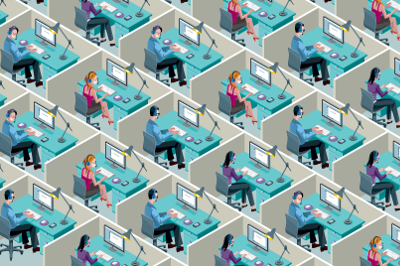 1. Streamline your agent's workflow
For your agents to be productive they need a well designed environment. In most companies your agents will spend a substantial amount of time on a computer logging interactions and carrying out requests on behalf of customers. Ensure these systems are well design and meet modern user experience (UX) standards.
2. Reduce costs with a VoIP solution
A simple way to reduce costs, if you're not already doing it, is to switch to a hosted PBX VoIP solution. You will see dramatic reductions in both service charges and call costs by switching to a VoIP provider.
If you want to find out more about why VoIP is cheaper than your legacy telephone system, then you can learn more here.
3. What gets measured, gets managed
In order to understand what is happening in a call centre, you need to be collecting data. Modern PBX solutions provide a range of options, from hourly or daily reports on agent performance to real-time monitoring of call performance. Make sure you are collecting and analysing your data at least once a day.
4. Make use of coaching tools
Most PBX products today offer a service called "whisper coaching" or "call monitoring" that allows a manager to listen in on calls and offer occasional advice to the agent that the customer cannot hear. This is an invaluable tool that can help you to get your new recruits up to speed very swiftly. It's also a great way to provide additional training and feedback to existing members of staff.
5. Use and optimise IVR menus
With a well designed IVR menu you can allow your customers to send themselves directly to the department that they require. This takes some of the pressure away from particularly busy queues and also means that customers wanting a quieter department get straight through and will report much higher levels of customer satisfaction.
6. Empower agents with the right information
In the same way that we want to send customers to the correct department, we also need to ensure that our agents are able to get hold of the right information quickly and easily when they receive a call. If agents have access to the right information at the right time, then your customers' experience will be improved and staff frustration reduced.
7. Measure customer satisfaction
Although the standard measurements of agent performance are useful, make sure you don't forget to measure customer satisfaction directly as well. Metrics commonly used to judge the performance such as average handling time can seem like the most important measure, but it tells you very little about the outcome of calls. To really understand if your systems are working, be sure to also measure outcomes such as customer satisfaction levels through surveys and feedback pages. These metrics are the ultimate measure of your success.
---
Posted on 09/15/2015
What we provide
Orbtalk specialise in SIP and VoIP solutions for business and are unique in this market space due to our global reach. This allows us to offer SIP Trunking and Cloud Phone Systems to organisations across the globe for single and multi-sited companies. Our global presence also means that we have one of the largest offerings of international numbers available from over 8000 destinations globally.