ITSPA Awards 2018
We are delighted to be Highly Commended in the Best Multi-National Solution category of the ITSPA Awards, held at the wonderful Barbican Conservatory yesterday. We thoroughly enjoyed the ceremony, as always, and our commendation is testament to our continued drive during the past 13 years to provide Global IP Telephony and the growth of our international customer base. We extend our congratulations to the commended and winning providers.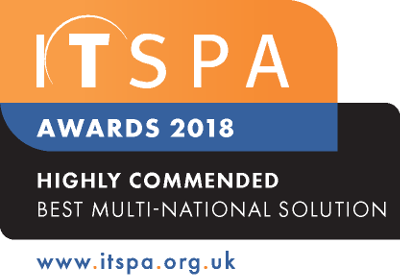 Our entry demonstrated our innovation with the new edition of the Cloud Phone System (now publicly available following beta test) and the release of Portal 2.0, which has been designed with the customer in mind and is our first version of the Portal to have mobile support implemented from the outset. The Cloud Phone System is available from our online shop, allowing you to have a fully functioning PBX ready to use in a matter of minutes. We have also increased our automated provisioning, allowing many new services to be added instantly instead of waiting up to 48 hours, as used to be the case. Our Bundled Minutes option offers inclusive minutes when calling over 35 countries; customers are charged a flat rate per extension (inclusive of calls) instead of paying for the calls they make. International customers can also benefit from numbers in over 8,000 destinations in 75 countries.
We're always keen to expand our international customer base so if you are a multi-national business thinking of switching telephony supplier, or if you are a UK business intending on expanding internationally, contact our Sales Team today who will be happy to help on 0203 5888 000 or by e-mailing sales@orbtalk.com.
---
Posted on 05/31/2018
What we provide
Orbtalk specialise in SIP and VoIP solutions for business and are unique in this market space due to our global reach. This allows us to offer SIP Trunking and Cloud Phone Systems to organisations across the globe for single and multi-sited companies. Our global presence also means that we have one of the largest offerings of international numbers available from over 8000 destinations globally.