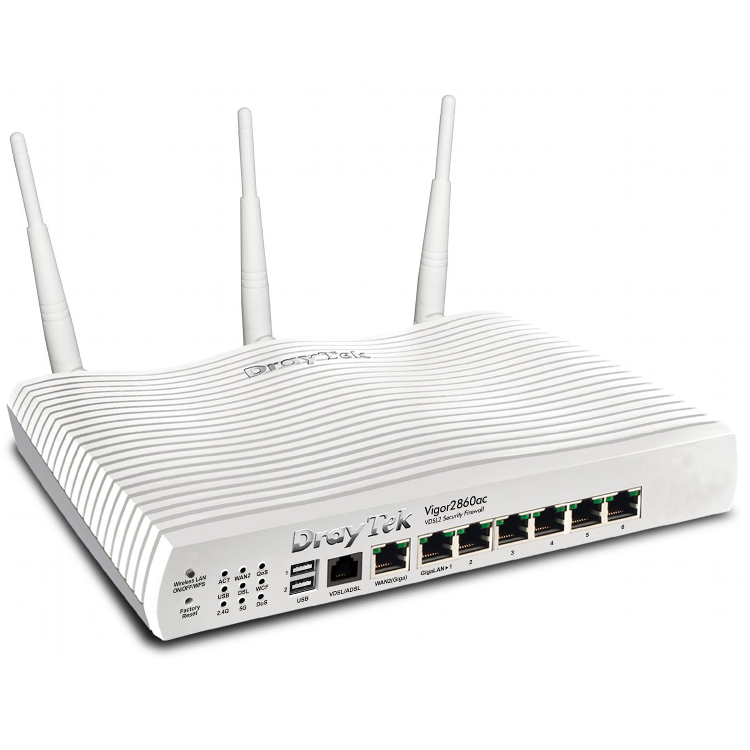 Draytek Vigor 2860ac
The Vigor 2860ac features the same specification as the standard Vigor 2860n with the addition of 802.11ac wireless LAN. The addition of the 802.11ac technology increases your total wireless capacity upto a massive 1300Mb/s. It is also still capable of supporting either ADSL or VDSL (BT Infinity™/FTTC). This is great for users who currently use ADSL now that might wish to move over to VDSL later when their ISP's upgrade from current ADSL2+ technologies. Alternatively to this its other WAN ports can be used to provide connectivity to Ethernet feeds, secondary xDSL modems or a 3G cellular service using a USB adaptor. This latest router series includes support for professional features such as VLAN tagging and Gigabit Ethernet and built-in 802.11ac WiFi.
Key Features:
Six Gigabit LAN ports
Support for VDSL2/ADSL2, Ethernet and 3G-based broadband.
802.11ac Wi-Fi Compliant (as well as 802.11n, a, b and g)
Full Fail-over/Load Balancing functionality with a second WAN through a Gigabit Ethernet WAN port
High performance object-based SPI Firewall and CSM (Content Security Management) for network security with up to 200Mb/s firewall throughput
2 USB ports for file sharing, network printers and 3G/4G mobile broadband
Support for up to 32 VPN tunnels with comprehensive secure protocols
VLAN for secure and efficient workgroup management
1300Mb/s Total Wireless Capacity (3x433Mb/s)
The Vigor 2860ac comes packed with professional-level features offering truly comprehensive DSL connectivity and security. Compatible with all UK variants of ADSL (including ADSL2+ and Annex M), VDSL and VDSL2, the Vigor 2860ac can also be used for cable-modem, leased line and EFM applications using its Gigabit Ethernet WAN port. On VDSL, the Vigor 2860 series supports the very latest services for speeds up to 80Mb/s (depending on line quality and length).