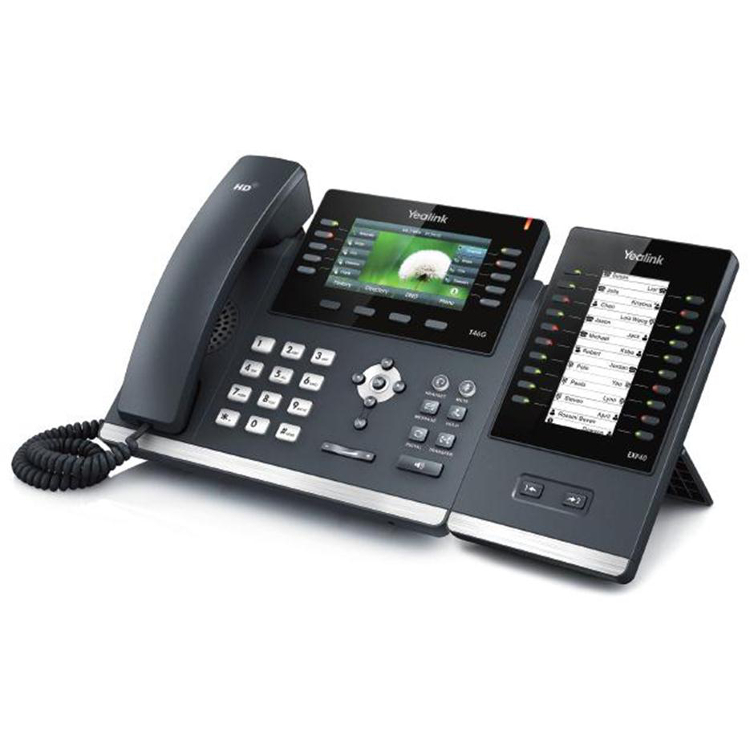 Yealink T46GN with EXP40 Sidecar
Stylish yet practical, the perfect handset for senior members of staff. The 4" x 3" LCD display improves usability and the Yealink T46GN also features the following:
10 function keys, programmable across three pages resulting in up to 27 features (including speed dials) for increased productivity Busy Lamp Field (BLF) – know when your colleagues are available Headset support, enabling you to carry on working without inconvenience USB port supports Bluetooth headsets *This handset can be configured with ease via your web browser or the user interface of the phone
Partner your T46GN with the EXP40 Expansion Module - featuring 20 physical keys with LED BLF lights and the option to use the page switch button for an additional 20 keys, speed dial, a graphic LCD for clarity and call pickup. You also have the ability to link up to three EXP40s on one phone.
Increase employee productivity even further with an EHS36 Wireless Headset Adapter and YHS32 Professional Call Centre Headset.
EHS36 compatible with major wireless headset brands Setup with ease *YHS32 is lightweight for ease of use