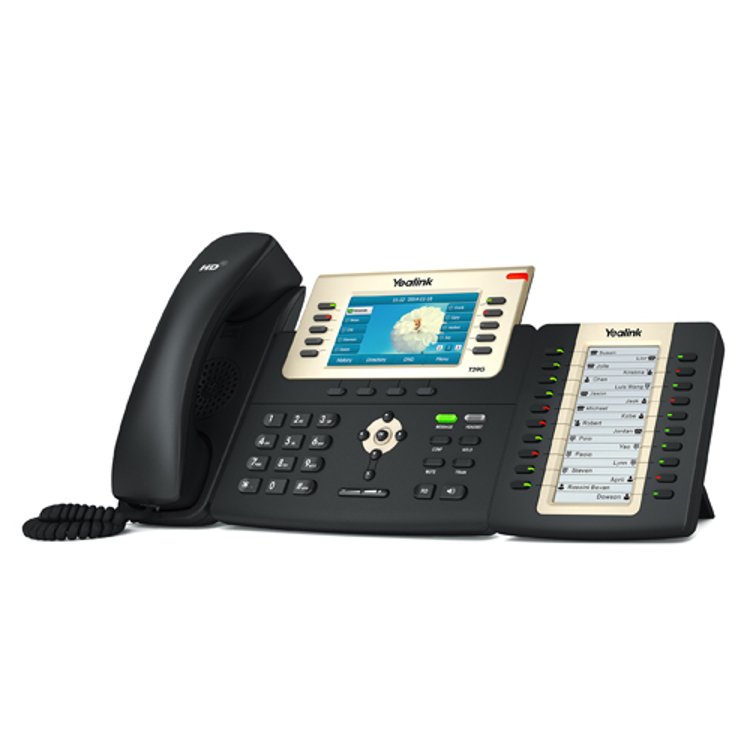 Yealink T29PN with EXP20 Sidecar
The T29G dual port gigabit executive IP phone offers a high resolution TFT colour display and Optima HD technology delivering a rich visual and audio experience along with a very user friendly interface. As well as support for corded and wireless headsets, the T29G also incorporates a USB port allowing Bluetooth headsets to be connected using a Yealink BT40 Bluetooth dongle and up to 6 expansion modules making this an attractivce and feature-rich handset.Featuring:
Sixteen user accounts and line keys
Dual port Gigabit Ethernet, Power over Ethernet
4.3" 480 x 272-pixel color display with backlight
10 BLF LED programmable keys
Yealink Optima HD voice
Built-in USB port
Partner your T29PN with the EXP20 Expansion Module - featuring 20 programmable keys with LED BLF lights, speed dial, a 160 x 320 graphic LCD display and call pickup. You also have the ability to link up to six EXP20s on one phone for up to 120 keys.
Increase employee productivity even further with a YHS32 Professional Call Centre Headset.
Setup with ease YHS32 is lightweight for ease of use