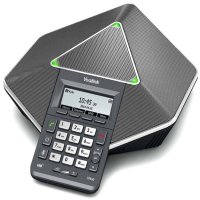 Yealink CP860
99The ideal solution for businesses with a high volume of conference calls as you can have conferences with up to four other handsets (standard or conference phones). Perfect for discussions with teams located in other offices or when multiple employees need to discuss a project with a customer, supplier or partner. The conference phone features:
Support for up to 16 colleagues when used in conjunction with optional CE80 expansion microphones
Optima HD ensures crystal clear call quality
Three microphones as standard for heightened call quality from various areas of the conference room
Clearer audio with acoustic echo cancelling
If you do not have a call recording solution already, calls can be recorded to a USB stick to be referred to at a later date
Also, the CP860 fully supports Power over Ethernet, thereby reducing cabling and the costs associated with it. For medium sized conference rooms, the three metre range and 360⁰ pickup offered by the CP860 ensures that colleagues across the conference room will be heard. In addition, for maximum flexibility, the CP860 can be connected to your PC's audio.