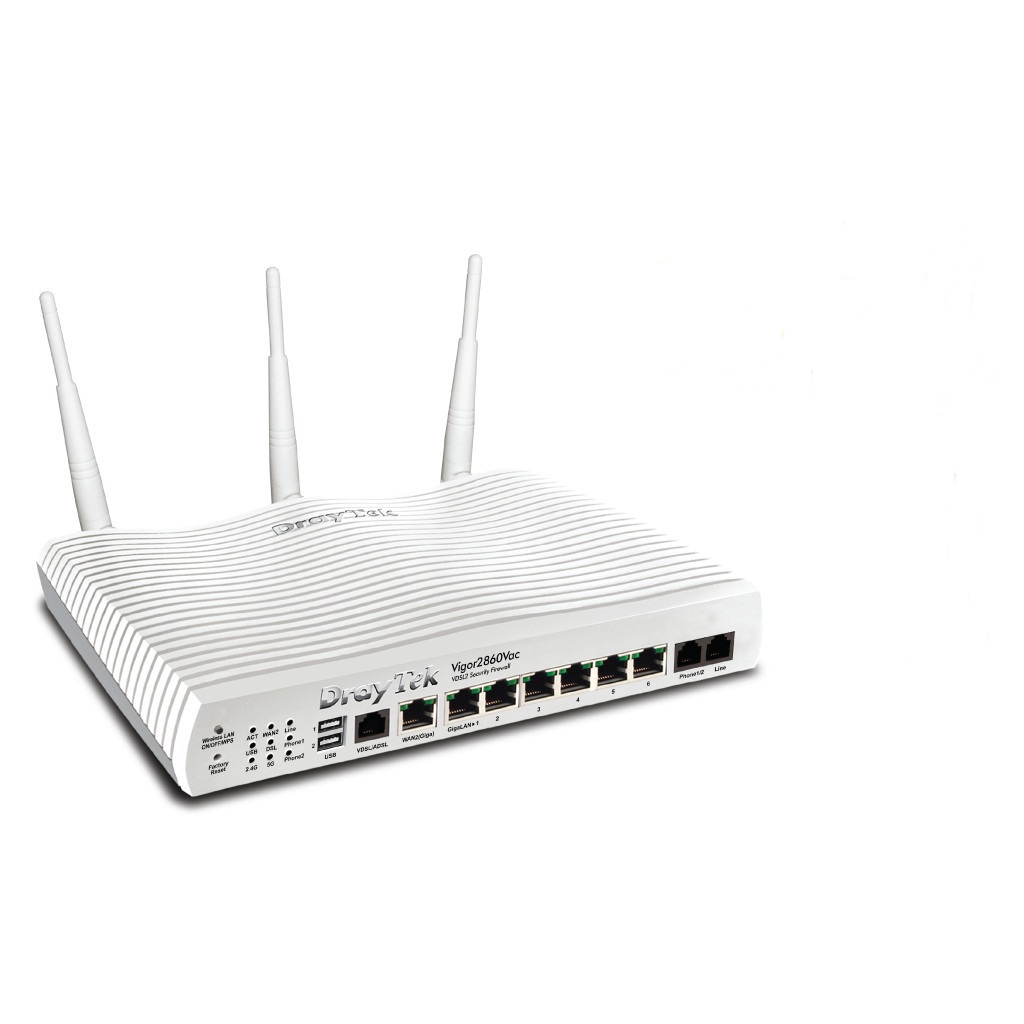 Draytek Vigor 2860vac
The Vigor 2860Vac model provides two analogue phone ports and an analogue line port provide full PSTN and VoIP integration via both the Internet (VoIP) and your regular analogue line. You can connect 1 or 2 regular telephones and the can be used independently and simultaneously for both incoming and outgoing calls. As well as the two telephone ports, a third port, the Analogue Line port, connects into your regular analogue line (PSTN/POTS*). This then gives the telephones access to your analogue line to allow you to make calls as well as your VoIP facility (you can select the PSTN line instead of VoIP by dialing #0). Incoming calls are automatically switched through to your telephone(s) (either one or both) so that each phone can be used for both VoIP and POTS calls. Both telephones plugged into your router have access to VoIP and your analogue line.
Key Features:
*Supports VDSL2, ADSL, 3G/4G and Ethernet-based Broadband
*BT SIN 498 MCT Approved - New!
*3-WAN Simultaneous : VDSL/ADSL, Ethernet and 3G/4G (USB)
*Wireless Management of compatible DrayTek APs
*IPv6 Ready - See below for feature support
*Dual-band (2.4/5Ghz) simultaneous wireless 
*Extended DFS frequency range in 5Ghz band
*DrayTek Firewall with huge flexibility
*High Availability (Hardware fail over) - New!
*6-Port Gigabit Ethernet LAN Switch
*Wireless Guest Portal
*Multiple Private LAN Subnets
*SMS (Text Message) Alert
*VLANs (Port, 802.1q & Wireless) - Info
*Includes SmartMonitor software
*Content Filtering (by keyword, data type or category)
*Internal RADIUS Server
*LDAP Integration for VPN and user access
*QoS (Layer 2&3, 802.1p & TOS/DCSP)
*Up to 32 VPN tunnels for LAN-to-LAN or teleworkers
*VPN Trunk/Backup to remote sites
*SSL VPN - Tunnel or Proxy (16 users)
*USB Port for Printer, Logs or 3G Modem
*Optional VigorCare Available

The Vigor 2860 series (including the Vigor 2860n and Vigor 2860Vn) is our new router/firewall which can support either ADSL or VDSL (BT Infinity™/FTTC). This makes the Vigor 2860 ideal for users with ADSL now who might upgrade to VDSL later. Alternative WAN ports can instead provide connectivity to Ethenet feeds, secondary xDSL modems or a 3G/4G cellular service using a supported USB adaptor. This latest router series includes support for professional features such as VLAN tagging, Gigabit Ethernet built-in WiFi ('n' and 'ac' models).