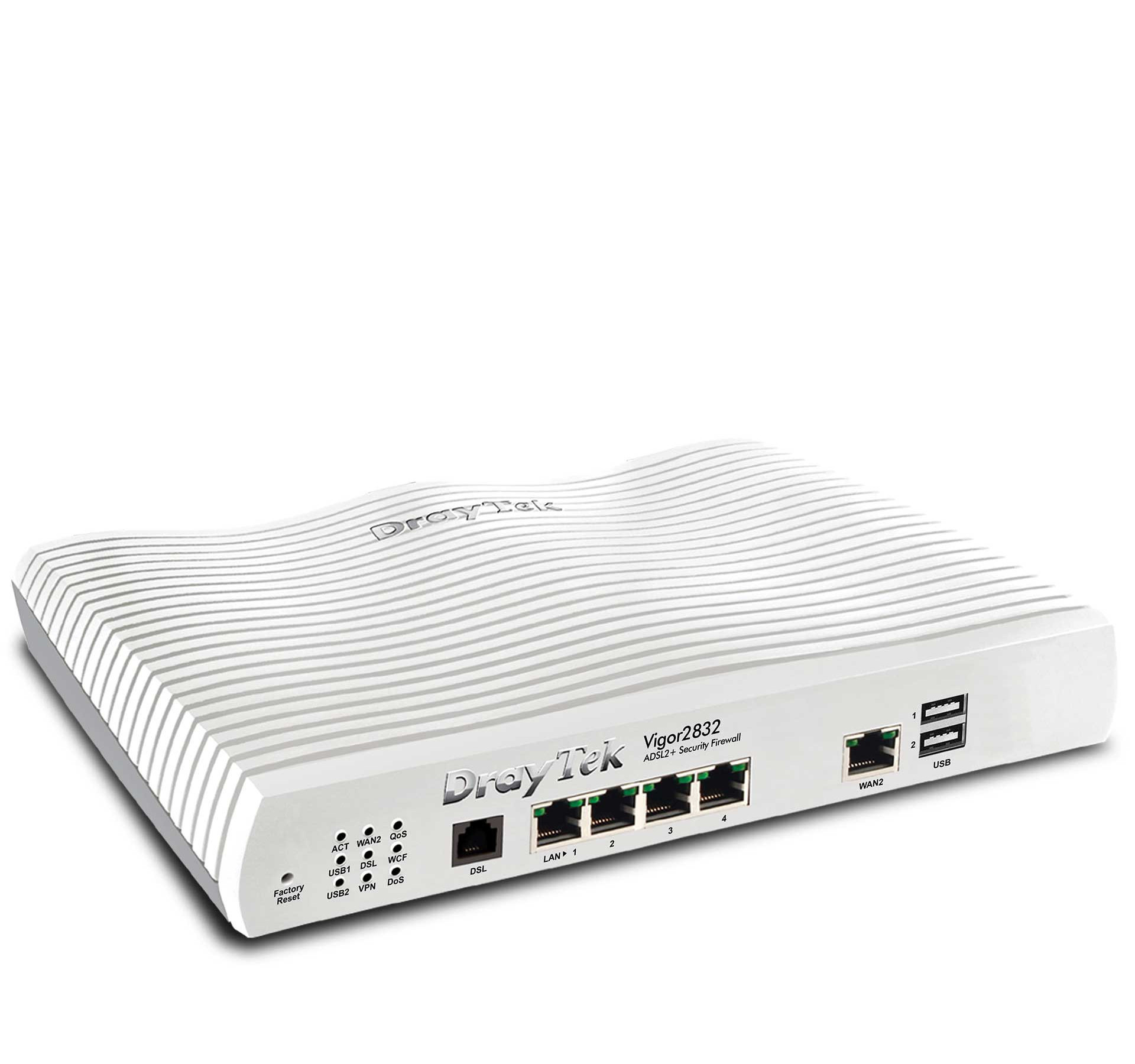 Draytek Vigor 2832
The Vigor 2832 features three methods of WAN connectivity - ADSL, Ethernet (Gigabit) and two USB ports for connection of a 3G/4G modem. The Ethernet port can connect to a second ADSL or VDSL modem (e.g. Vigor 120 or Vigor 130), a cable modem or any other Ethernet-based Internet feed. The multiple WAN interfaces can be used either for WAN-Backup or load balancing. Load-balancing or fail over supports IPv4 only currently. WAN-Backup provides contingency (redundancy) in case of your primary ADSL line or ISP suffering temporary outage). Internet Traffic will be temporarily routed via the secondary Internet access. When normal services is restored to your primary ADSL line, all traffic is switched back to that.
Key Features:
Supports ADSL, 3G/4G (USB) and Ethernet-based Broadband
4-WAN Simultaneous : ADSL, Ethernet and USB 3G/4G
Up to two 3G/4G/LTE USB modems can be used
IPv6 Ready - See below for feature support
DrayTek Firewall with huge flexibility
Wireless Guest Portal
Multiple Private LAN Subnets
SMS (Text Message) Alert via 3rd party server
VLANs (Port, 802.1q based & Wireless)
Supports DrayTek SmartMonitor software (30 users)
Content Filtering (by keyword, data type or category)
LDAP Integration for VPN and user access
QoS (Layer 2&3, 802.1p & TOS/DCSP)
Up to 32 VPN tunnels for LAN-to-LAN or teleworkers (PPTP/L2TP/IPsec)
Up to 10 SSL VPN Tunnels
VPN Trunk/Backup to remote sites
USB Port for Printer, Logs or 3G/4G Modem
Optional VigorCare Available
VPN - Linking remote offices, HQ, teleworkers and mobile staff. A feature central to DrayTek routers is the VPN (Virtual Private Networking) features. A VPN enables you to link two remote offices, branch offices back to HQ or home-based/mobile teleworkers back to your office. Once connected, they have access to your office/remote resources through a secure encrypted tunnel allowing remote desktop, file sharing and seamless access to other resources and devices.