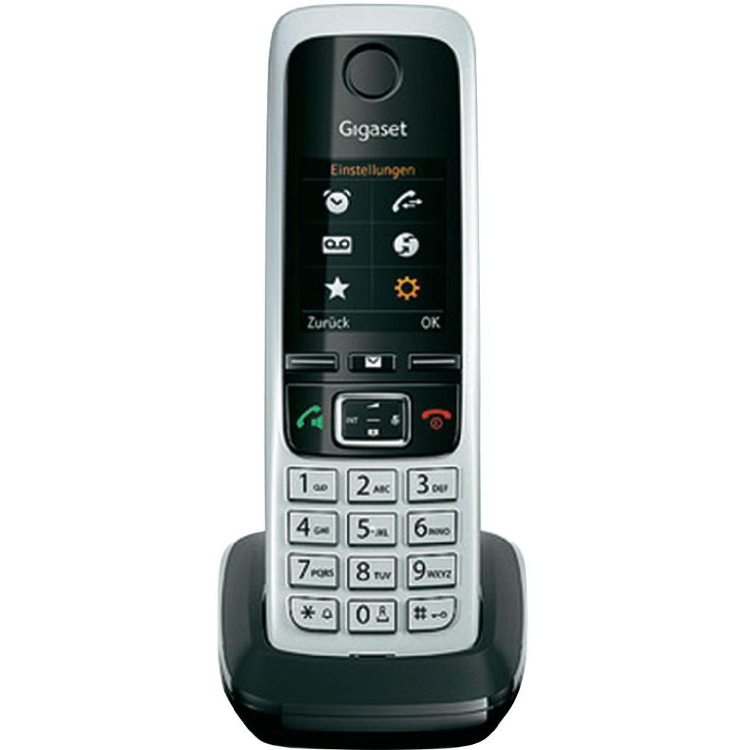 Gigaset C430H
You'll find the Gigaset C430H highly familiar as it has many of the same features as other cordless handsets with the addition of a wide range of options that you will be used to on your desk phone. Also, the relatively large 1.8" colour TFT screen has two colour schemes, allowing for personalisation to employee's tastes. Alternatively, you can choose a colour scheme that most closely matches your company's brand. The C430H features:
The ability to personalise your ringtone, screensaver and sounds
Phonebook supports up to 150 entries (full name, up to three contact numbers, personalised ringtone and birthday reminder), ideal for medium and large enterprises
You can search for phonebook entries to save time and therefore increase productivity
Made of high quality materials; you can be assured of a long working life from your C430H
Aesthetically pleasing
The C430H is known for its ease of use – employees will be able to have a more pleasant experience when using the C430H, thereby increasing morale. Another productivity enhancing feature is Gigaset's free and easy to use ContactsPush app, enabling you to upload all of your contacts from your Android smartphone or iPhone to your C430H instead of having to enter contacts manually.