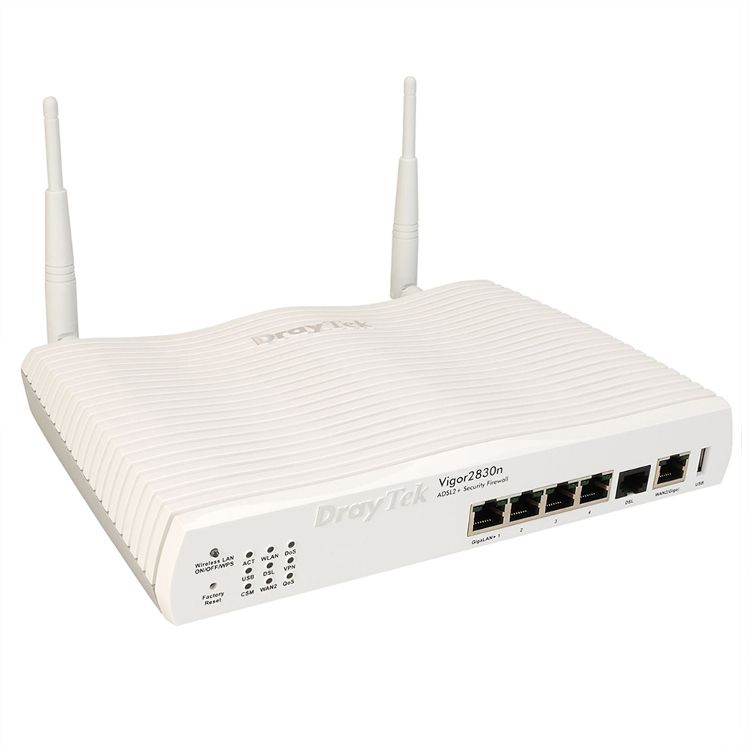 Draytek Vigor 2830n
The Vigor 2830n provides all of the features of the Vigor2820 series, with additional support for professional features such as VLAN tagging, Gigabit Ethernet and dual-band WiFi (on wireless models). The Vigor 2830n's secondary WAN interface can be connected to other modems now or later (e.g. a second ADSL, BT Infinity or cable modem etc.). The Vigor 2830 series is DrayTek's flagship premium ADSL router/firewall family and the very latest version of the Vigor28xx series, winner of the PC Pro wireless router award for the past three years in a row. Packed with features, the Vigor 2830n offers truly comprehensive ADSL connectivity and security.
Key Features:
ADSL/ADSL2+, 3G and Broadband Router
Triple-WAN ports for ADSL, cable modem and 3G which can be used simultaneously
V3 Firewall with huge flexibility
Four-Port Gigabit Ethernet LAN Switch
Wireless Guest Portal
Multiple Private LAN Subnets
User Password Access Control
Up to 50,000 simultaneous NAT sessions
Up to 4 VLANs (Port or IP based)
VLAN Prioritisation & 802.1q
Up to 60,000 simultaneous NAT Sessions
IGMP v3 MultiCast
Content Filtering (by matched keyword or data type)
Globalview Web Filtering (Subject to subscription)
Ethernet and WiFi VLANs (common/distinct groups)
QoS (Layer 2&3, 802.1p & TOS/DCSP)
SSH and HTTPS/AES Access to WUI
VPN Dial-in/dial-out with hardware co-processor
Dual-Login Admin interface (user/admin)
USB Port for Printer, Logs or 3G Modem
Compatible with all variants of ADSL (including ADSLMax, ADSL2+ and Annex M) the Vigor 2830n can also be used for cable-modem and leased line applications using its additional Gigabit Ethernet WAN port. A four port Gigabit switch on the LAN side provides high speed connectivity for your server or other local PCs, for the highest speed local data transfer. Security features include content filtering, web application controls and new object based firewall management system.