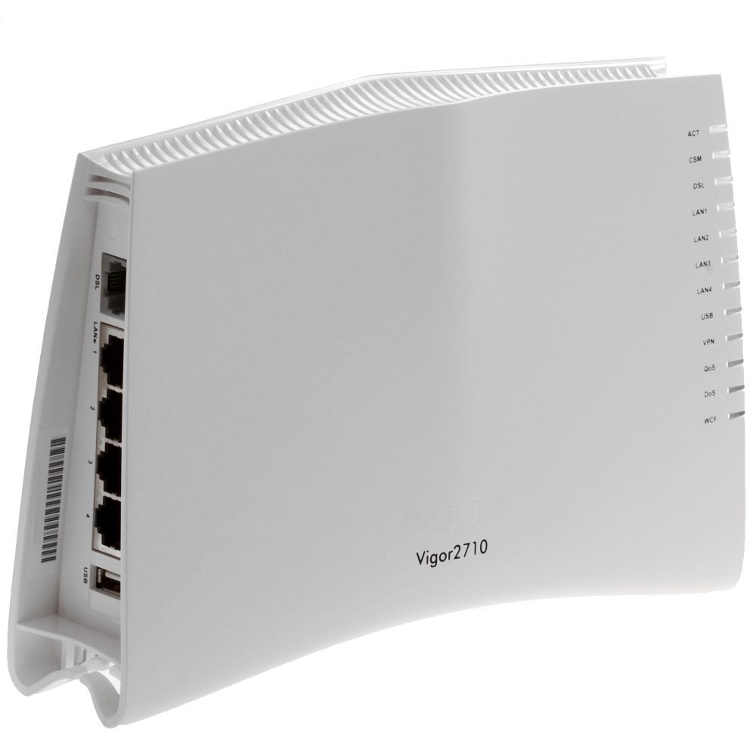 Draytek Vigor 2710
Please note this is the wired version. The wireless versions are the Vigor 2710N and the Vigor 2710VN.
The DrayTek Vigor 2710 ADSL2/2+ router is designed to be the ideal ADSL-sharing and firewall device for the SoHo (Small Office / Home) user. It combines compatibility with all UK ADSL line types together with performance, features and price into an attractive, reliable and easy-to-use product, with the pedigree and thoughtful design DrayTek are renowned for. Outgoing VPN makes it ideal as a teleworker router for your home VPN link to your main office. A new style case for this range provides stylish looks and space saving design, allowing upright desk usage or wall-mounting. Cleverly conceived cable entry points also minimise the overall size of the unit.
Key Features:
ADSL/ADSL2+ Router - Compatible with ADSL, ADSL Max, ADSL2 & ADSL2+
NAS Facility - Add a USB memory key for shared LAN storage/access (Requires USB Memory)
USB Printer Port to share/access a printer
Universal Plug'n'Play (uPnP)
Object based Firewall
Content Filtering & Access Control
NAT Port redirection
4-Port 10/100BaseT Autosensing Ethernet Switch
Dynamic DNS Posting, compatible with popular DDNS providers
Easy configuration, monitoring & control from web-interface
DNS Proxy/Cache & DHCP Server
Dial-Out VPN Facilities
If you want to connect multiple USB devices at once, you will need to add a powered USB hub (not supplied). The Vigor 2710's USB port can also be used to add storage memory to the unit in the form of a USB memory key or for higher capacity a USB hard drive (normally requires its own power). The Vigor 2710 then provides FTP access file uploading/downloading which can be from the local LAN or from anywhere on the Internet.